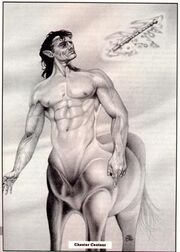 Chester is a centaur who lived among the centaurs whose territory was located South of North Village.
Chester is quick to anger, but easily calmed by his mate Cherie, who he married in 1042. He almost killed Bink when they first met due to a misunderstanding. He suffered several injuries, including an attack on his posterior by a Needle Cactus. He found his talent is a summoning and playing a silver flute.[1]
Chester and Cherie have two foals. Chet was foaled in 1042, and Chem was foaled in 1045.
ReferencesEdit
↑ A Spell for Chameleon, Chapter 2