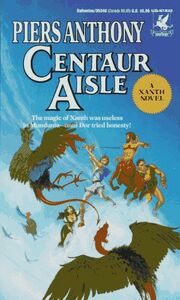 The family of Chester has served as major characters in the Xanth series by Piers Anthony.
Chester, a nephew of Herman, and Cherie married in 1042. Chet, their son, was foaled in the same year. Chem was foaled in 1047.
Chet drank from a love spring with a seacow in 1062. Cencow was foaled in 1063. Cencow also had a love spring encounter with a griffiness in 1092. Merei, Mesta, and Dell were delivered as humans in 1093. The triplets live with Chet.[1]
An male centaur stallion and a winged horse filly drank from a love spring in 1057. Cheiron was foaled in 1058. Chem met Xap, a hippogryph, while helping Irene search for Ivy in 1072.[2] She mated with him, and Chex was foaled in 1073. Chex and Cheiron were married in 1083 by the Simurgh. Their son Che was foaled in 1085. They also had twin fillies Chelsy and Cherish in 1094.[3]
Cynthia was delivered to her human family in 1005, however was transformed into an alicentaur in 1021 when she entered the Brain Coral's pool.[4] She was released in 1093 and youthened to the age of 8.[5] She and Che married later. They now have four foals: Cheline was foaled in 1107, Chen was foaled in 1108, Cherin was foaled in 1109, and Chel was foaled in 1110.[1]
In Xanth Reality 2, Che-Three is married to Surprise-Three and had a foal. Cynthia-Three is married to Umlaut-Three.[6]
References
[
]
External links
[
]