Xanth is a series of fantasy novels written by Piers Anthony. Almost 40 novels have been written, starting with A Spell for Chameleon in 1977. Anthony commonly states that he originally intended for Xanth to be a trilogy, and after the wild success of the first three books, decided to expand the series to nine books. An extremely devoted fan base persuaded the author to continue writing the series, which is now open-ended.
Anthony has branched out from Xanth to publish novels in the Incarnations of Immortality series, beginning in 1983 with On a Pale Horse. The series follows a history that contains magic and advanced technology focusing on seven supernatural "offices" (Death, Time, Fate, War, Nature, Evil and Good).
The Apprentice Adept series was launched in 1980 with Split Infinity that takes place on Phaze and Proton, two worlds occupying the same space in two different dimensional planes. Phaze is a lush planet of magic, where Proton is a barren mining planet of science.

Dragon on a Pedestal
When the book begins, the Good Magician Humfrey, and his son Hugo, run into the Gap dragon while filling a vial with water from the Fountain of Youth. Humpfrey tells Hugo to douse the dragon with the water, and Hugo does so but accidentally sprays Humpfrey as well. Humpfrey regresses to the age of a baby, as does the dragon. Queen Irene realizes Princess Ivy has wandered off, and begins a quest to find her daughter. Luckily, Ivy comes across Humfrey's 8-year-old son Hugo, and - due to her as-of-yet unknown talent of enhancement - Hugo temporarily becomes smarter, braver, and stronger when she tells him he is. Ivy also manages to enhance the positive qualities of the Gap Dragon, and names him Stanley Steamer.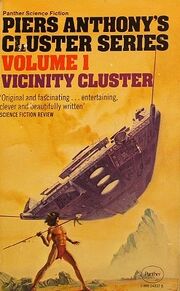 With 182 images on our database, there is no shortage of book cover art, fan-art, or pictures of your favorite characters.
This image has been randomly selected from our database. Each time you visit our site, you should see a new image here. For more information about it, click directly on the image. The resulting page will detail when it was uploaded, by whom, and often overview which articles use that particular image.
Please visit our character, cover art and fan art galleries and feel free to upload as many images as you like. We have categorized our images into several groups, for easier future reference. Have fun!
Latest activity