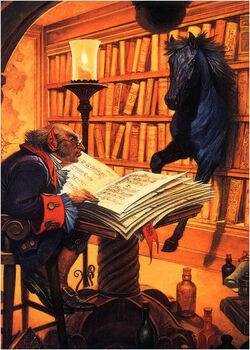 For the book, see Night Mare (book)
A night mare is a horse-like creature that brings bad dreams to punish people for doing bad things. They are ruled by the Night Stallion.
List of night mares
Edit
Mare Australe
Mare Crisium is also known as Cris or Crisis.
Mare Frigoris carried Tristan's dream.
Mare Humerium
Mare Imbrium is a major character throughout several novels.
Mare Juana is out of work.
Mare Nubium
Mare Vaporum is also known as Vapor.
Cenmares are the crossbreed offspring of a night mare and a centaur. The only known cenmare is Chemare.
Community content is available under
CC-BY-SA
unless otherwise noted.